Choosing Classes  
Throughout your studies, you will follow the program of study outlined in the Academic Calendar for the year you were admitted to the program, or the year you declared your major and/or minor. New students should consult with their program to confirm the planning process.
---
Class Message
Click on the

icon to view a message related to the class.
---
Preferences
When this "No Schedules Based on Preferences" message is returned, you can change your preferences, courses and/or course groups to allow for schedules to populate.

---
Online Classes
Online classes do not show in the calendar as they do not have days and times. Instead, you see them in the title bar of the calendar.

---
Waitlisted Classes
Waitlisted classes are faded in colour and a message populates in the title bar: Calendar contains waitlisted class(es).

NOTE: if you find a class that states it is waitlisted in the Schedule Planner but does not show in your myStudentSystem Class Search, it means the class is no longer offered. We are aware of and working to resolve this issue.
---
Class Information
Hovering over an item in the calendar will provide specific class information. The status indicates if the class is Open, Closed or Wait List.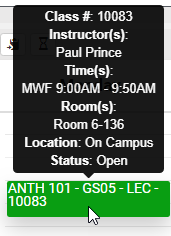 | | |
| --- | --- |
| ⛔ | The status information is not refreshed instantly so differences between the planner and actual availability in MyStudentSystem may differ. |
---
Class Number
Note the class number to enter when you enroll in the class(es). Use the icons to save your search results which include the class number for easier enrollment using MyStudentSystem.

---
Online Class Preferences
If you prefer Online offerings over On Campus classes, use your preferences to affect the sorting of schedules. By disliking the morning, afternoon and night classes, the planner will provide schedules with an emphasis on online classes.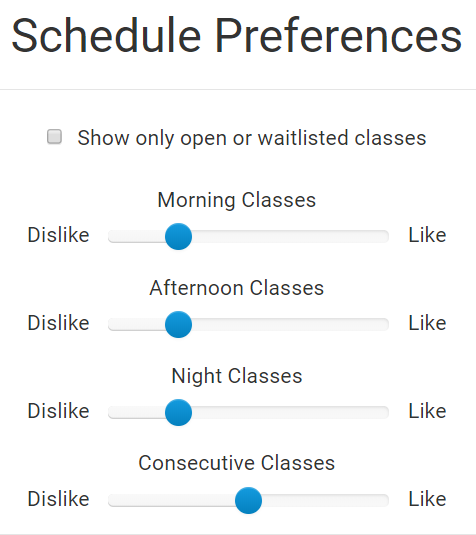 ---
Enrollment Instructions
Refer to the step-by-step enrollment instructions on the MacEwan website to complete enrollment in your MyStudentSystem.